Bahria Town opens 3D cinema
04-27-2012, 12:59 PM
Salman
Super Moderator


Posts: 3,875
Joined: Oct 2011
Reputation: 0
Bahria Town opens 3D cinema
Bahria Town opens 3D cinema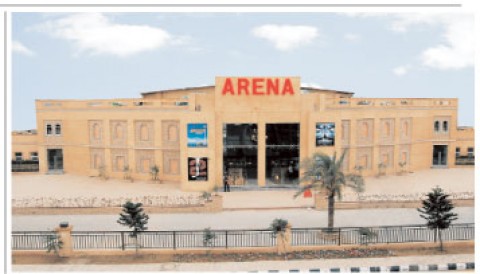 RAWALPINDI – Pakistan's first Gold Class 3D cinema "The Arena" was launched at Bahria Town Phase-IV here on Thursday. Bahria Town Chief Executive (CE) Ali Riaz Malik inaugurated the cinema during a ceremony, which was also attended by Bahria Town Vice Chief Executive Commodore (retd) Ilyas, other highups, showbiz stars and people belonging to different walks of life.
Addressing the ceremony, VCE Bahria Town Commodore (retd) Ilyas said that the Gold Class 3D cinema "The Arena" was a world-class cinema, which also reflects the architectural taste and philosophy of Bahria Town's Chairman Malik Riaz Hussain.
"The Arena is a different movie theater in this region which also on number one in Pakistan because of its latest 3D technology," he said.
He said that the aim of this initiative was to offer cultural attractions to young people and other citizens.
Commodore was of view that the Gold Class 3D Cinema "The Arena" joined the other initiatives offered by Bahria Town, a project which included two VIP theaters, 6 lazy boys, rack liners and a beautiful snake bar.
Possibly Related Threads...
Thread:
Author
Replies:
Views:
Last Post
Bahria Town Karachi Balloting Results
Salman
0
7,019
03-24-2014 02:19 PM
Last Post: Salman
100,000 win right to buy Bahria Town Karachi plots
Salman
0
2,140
03-24-2014 02:11 PM
Last Post: Salman
Bahria Town Karachi Balloting Results On Mar 23, 2014
Salman
0
4,547
03-18-2014 01:51 PM
Last Post: Salman
Bahria Town to start Karachi Metro Bus Service
Salman
0
4,157
03-17-2014 01:35 PM
Last Post: Salman
Bahria Town Karachi project and it's invisible hands
Salman
0
2,058
03-17-2014 01:29 PM
Last Post: Salman
Bahria Town Karachi Overseas Booking Last Day
Salman
0
2,277
03-10-2014 04:55 PM
Last Post: Salman
Greenvalley Opened Another Store In Bahria Town Rawalpindi
Salman
0
2,800
03-06-2014 01:00 PM
Last Post: Salman
Bahria Town Expanding To Other Cities
Salman
0
1,983
03-06-2014 12:27 PM
Last Post: Salman
Bahria Town Customer Support Center
Salman
0
1,841
03-01-2014 01:10 PM
Last Post: Salman
Bahria Town News Paper AD
Salman
0
1,818
03-01-2014 01:00 PM
Last Post: Salman
Bahria Town Karachi Overseas Block Launching Newspaper Ad Feb 14, 2014
Salman
0
2,801
02-15-2014 01:32 PM
Last Post: Salman
Bahria Town Newspaper Ad
Salman
0
1,588
02-13-2014 11:50 AM
Last Post: Salman
Good News For Registered Members Of Bahria Town Karachi
Salman
0
1,616
02-06-2014 12:42 PM
Last Post: Salman
Bahria Town Karachi Newspaper Ad
Salman
0
1,743
02-01-2014 02:09 PM
Last Post: Salman
Bahria Town Karachi Booking Starts
Salman
0
3,440
01-27-2014 05:23 PM
Last Post: Salman
Bahria Town Lahore Karachi Files Rates Update From Lahore Real Estate Jan 16,2014
Salman
0
5,460
01-17-2014 12:31 AM
Last Post: Salman
Bahria Town Lahore Sector F Updated Map
Salman
0
3,226
01-13-2014 04:43 PM
Last Post: Salman
Bahria Town Karachi Pakistan Updates
Salman
0
1,958
01-13-2014 04:39 PM
Last Post: Salman
Bahria Town Karachi Plans To Launch Its Master Planned Gated Community Soon
Salman
0
2,052
01-09-2014 03:06 PM
Last Post: Salman
Bahria Town Announced Discount on Booking of Karachi Projects
Salman
0
3,995
12-24-2013 02:32 PM
Last Post: Salman
User(s) browsing this thread: 1 Guest(s)